Quality Management Systems Manual
ChallengeElectronics_QualitySystemManual_Rev-H-2018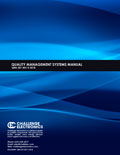 2018 QUALITY MANAGEMENT SYSTEM MANUAL
This Quality Management System Manual is the top level of a multi-tiered structure, and is organized along the lines of ISO 9001:2008. While this Quality Management Systems Manual is referred to as the "Quality Management System Manual", the details for implementation of policies and guidelines are provided in lower tiered documents such as procedures and work instructions.
Certifications
RoHS
This document addresses the Restriction of Hazardous Substances Directive (Lead Free Program) and European Union Directive 2015/863/EU.
REACH
This document covers the European Union REACH Regulation no.1907/2006 and Candidate List of Substances of Very High Concern (SVHC) for Authorization
Asbestos Compliance
California Proposition 65
E.I.C.C. Compliance
These documents pertain to the Electronic Industry Citizens Coalition and the Global e-Sustainability Initiative.
SRA Compliance
These documents pertain to the Social Responsibility Alliance's efforts to comply with human trafficking and modern slavery legislation.